FAST™ Plus Connector
Fujikura FAST™ Plus is a series of field-installable connector which comes with an angled maintenance-free cleaver to achieve >60dB Return loss. FAST™ Plus Connector is a factory pre-polished, Next Gen field-installable connector that adopted Hybrid Matching Gel, Maintenance Free Cleaver and has high reliability and long-term performance stability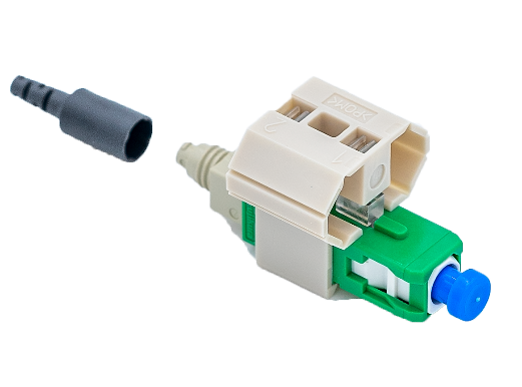 Feature
・Easy installation with no e-power needed in field
・No epoxy, No Polishing
・Hybrid Matching Gel with high connection reliability
・Maintenance Free Cleaver is attached, enabling easy and high quality fiber cleaving
・Universal design which supports 0.25mm fiber, 0.9mm fiber, 2mm cord and 3mm cord as 1 product
WHAT IS FAST™-PLUS Connector
A field installable connector using a combination of 2 different index matching materials, a solid agent and a liquid agent, at the connection point to achieve
・HIGH RELIABILITY
 Accommodates higher than usual gap/uneven fiber end-face condition which may occur from opposite end face angles
・LONG TERM PERFORMANCE STABILITY
 Restricts the movement of air bubble/contamination which may exist during termination
Most attractive package in the history of Fujikura's FAST™ Connectors to come with a CLEAVER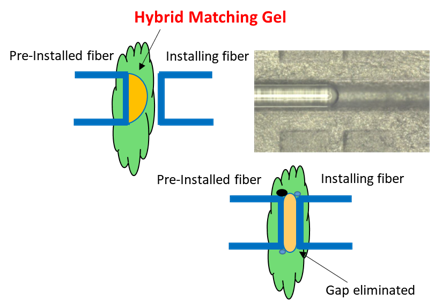 ・With a certain probability, unstable IL and RL may be caused by moving air bubbles or contamination during connection.
・To restrict the movement of air bubble and/or contamination within the liquid matching agent, Hybrid Matching Gel was introduced to ELIMINATE GAP between the connection point.
 Angle Maintenance Free Cleaver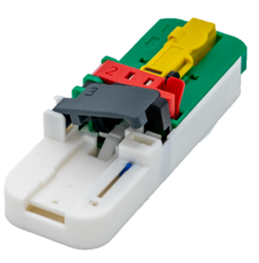 ・Comes with one for every 100pcs of FAST™-PLUS Connector.
・Flat cut cleaver (MFC : Maintenance Free Cleaver) is attached for UPC type, and Angle cut cleaver (AMFC : Angle Maintenance Free Cleaver) is attached for APC type.
・ENFORCES a good cleave even till end of life.
・GOOD END FACE is achieved with every cleave by constant pulling force controlled by the mechanism and special blade structure.
・FIRST in the world to design and develop an ANGLED MAINTENANCE FREE CLEAVER.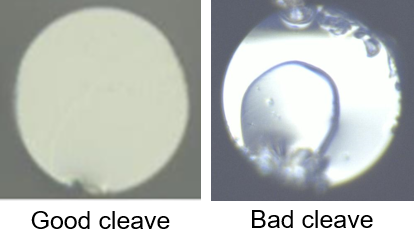 ・From it's name which means NO maintenance is required unlike conventional cleaver.
・We need to ensure all cleaves are good in field assembly technique without the presence of Fusion Splicer. Maintenance Free Cleaver is the solution.
・Conventional cleaver produces bad end face without maintenance; MFC makes every cleave a good cleave.
Applicable
Fiber/Cable

0.25mm fiber (240~265µm), 0.9mm fiber (850~950µm), 2mm cord, 3mm cord

Connector

SC, LC

Fiber

SM*1,*2

MM(OM1)*3

MM(OM2)*4

MM(OM3)*5

MM(OM4)*6

Polishing

UPC

APC

PC

Housing
Color

Blue

Green

Beige

Black

Aqua

Aqua

Insertion
Loss(dB)*7

≦0.5

≦0.6

≦0.4

Return
Loss(dB)

≧45
(Typical 50)

≧60
(Typical 65)

–
*1 : SM(R15), ITU-T G. 625D, ITU-T G.657.A1, *2 : SM(R7.5, ITU-T G. 625D, ITU-T G.657.A2) type is available
*3 : GI62.5/125, IEC60793-2-10A1b, *4 : GI50/125, IEC60793-2-10A1a.1, *5 : GI50/125, IEC60793-2-10A1a.2,
*6 : GI50/125, IEC60793-2-10A1a.3, *7 : with reference connector, SM@1310, 1550nm, MM@850, 1310nm
Fiber

Polishing

FAST-SC-PLUS*8

FAST-LC-PLUS*8

SM

UPC

FAST-SC-PLUS-UPC-A1-ALL

FAST-LC-PLUS-UPC-A1-ALL

APC

FAST-SC-PLUS-APC-A1-ALL

FAST-LC-PLUS-APC-A1-ALL

MM(OM1)

PC

FAST-SC-PLUS-GI6-ALL

FAST-LC-PLUS-GI6-ALL

MM(OM2)

PC

FAST-SC-PLUS-GI5-ALL

FAST-LC-PLUS-GI5-ALL

MM(OM3)

PC

FAST-SC-PLUS-10G-ALL

FAST-LC-PLUS-10G-ALL

MM(OM4)

PC

FAST-SC-PLUS-OM4-ALL

FAST-LC-PLUS-OM4-ALL
*8 : FAST-xx-PLUS-xx-ALL : ALL is Compatible model with All types of Applicable fiber/cable as described.  
      Some limited models are available